Geology and Mineralization: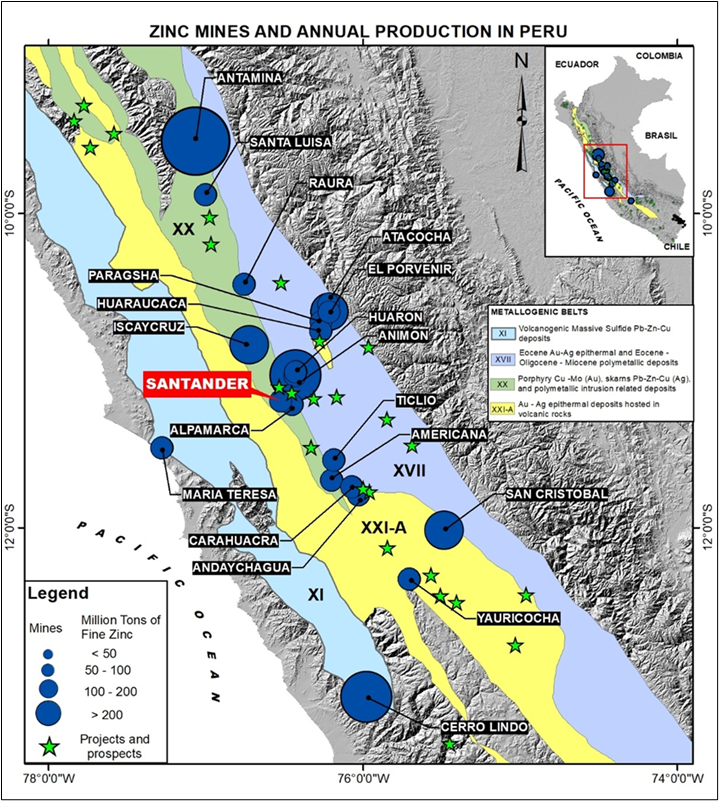 The Property lies within the Central Peruvian Metallogenic Belt, where the mines have produced 12%, 7% and around 10% of the World´s zinc, lead and silver production respectively over the last two decades (USGS, 2001-2020).
The property is underlain by a package of Cretaceous carbonate and clastic sedimentary rocks that were tightly folded into a series of northwest-trending anticlines and synclines.
An initial pre-mineralization, NW trending fold and thrust belt formed during Incaic orogenic cycle (late Palaeocene to Eocene). A second phase of contractional deformation in the mid-Miocene is thought to be contemporaneous with mineralization (N-NW trending anticlines and synclines and high-angle thrust faults).
Jean-Paul Bergoeing Rubilar (2020) identified four different alteration / mineralization events at Santander: (I) Prograde skarn, (ii) Retrograge skarn, (iii) Porphyry-style Qtz-Py-Mo veins, and (iv) Late carbonate stage.
N143-101 Mineral Resource and Reserve Table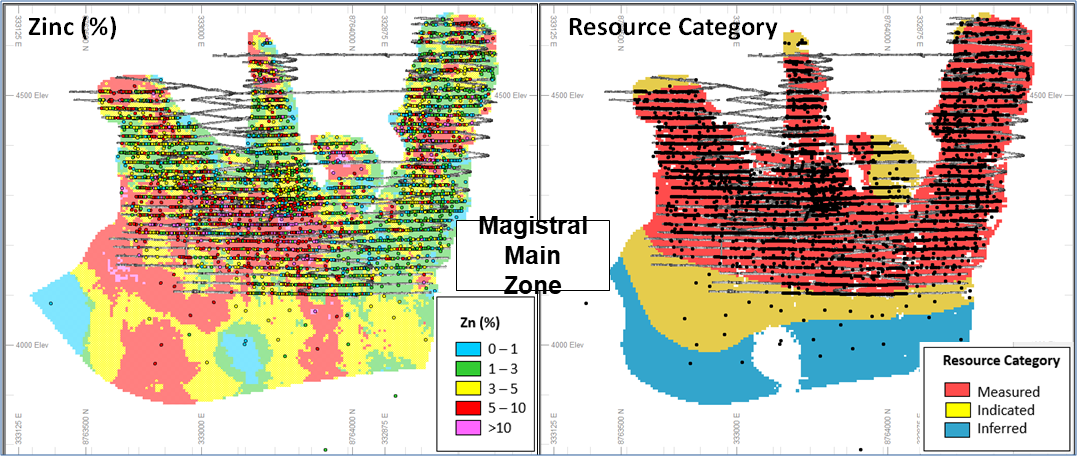 Mineral Resource Statement for Magistral Deposits
Category
Tonnes
(000)
Zn
(%)
Pb
(%)
Ag
(g/t)
Measured
1,013
3.92
0.92
36.1
Indicated
1,370
4.86
0.22
17.2
Measured + Indicated
2,383
4.46
0.51
25.2
Inferred
1,601
3.95
0.19
15.7
Mineral Resource Statement for the Santander Pipe
Category
Tonnes
(000)
Zn
(%)
Cu
(%)
Pb
(%)
Ag
(g/t)
Indicated
1,791
7.18
0.10
0.03
14.8
Inferred
3,189
5.07
0.15
0.004
7.9
The Mineral Resource Estimate (MRE) was developed by DRA based on the resource wireframes modelled by Trevali. Magistral Deposits were discretized into three domains (Main Zone, T Zone, and Secondary Zone), whilst the Santander Pipe was estimated as a single domain.
The MRE was developed under industry standards and included: compositing of grades to appropriate sample lengths, statistical analysis, sub-block model, variography and Ordinary Krigging interpolation, resource classification, and model validation—through statistical comparison, visual checks, and Swath plots.
The MRE is reported above a Net Smelter Return (NSR) cut-off of US$40, based on recent production and processing of the Magistral mine products and metal prices from London Metal Exchange (LME) 2021 averages.